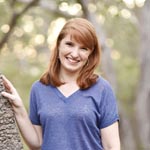 Hayleigh
Hayleigh completed her Certificate IV in Applied Fashion and Technology in 2013 and completed her Diploma in Applied Fashion Design and Technology in 2014. Hayleigh is part of Kel-Leigh Couture's sewing and design team. Hayleigh came to Kel-Leigh Couture with experience in the retail and fashion construction industry.
Hayleigh says: "After completing my work placement for TAFE with Kel-Leigh Couture, it confirmed in my mind that I definitely wanted to work in the bridal industry. I love working at Kel-Leigh Couture because not only do I get to sew and construct amazing dresses with beautiful fabrics, I also get to work within a talented and lovely team who has the same passion as myself."
When Hayleigh has free time she likes being outdoors, preferably somewhere near the beach. Hayleigh loves horse riding and has ridden her whole life. And of course, Hayleigh loves to sew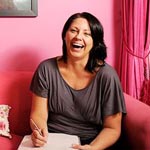 Kel
The best part about my job is meeting wonderful people, helping them design their perfect wedding dress and seeing the smile on their face at the final fitting. That's what makes my job perfect. When I first started in the business I would regularly see the bride-to-be and sometimes her family crying. I thought I had done something wrong but after the tears subside they all tell me how happy they are and can't help crying because everything is so perfect. I am very lucky to be doing what I do with the support and love from my team."
When Kel is not at Kel-Leigh Couture creating beautiful gowns and helping beautiful brides she loves to socialise with friends and family, travelling and making time to relax whenever she can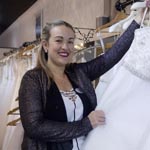 Tegan
After obtaining my Diploma in Event Management I started working at a Bridal Store in Canberra as a lead into event management but quickly fell in love with the Bridal Industry and helping Brides find their dream gown.
After moving to the Central Coast I was offered a wonderful opportunity to work at Kel-Leigh Couture. The amazing gowns we have and to see how much care they put into each  gown is something I'm very lucky to experience.
I love being able to help brides feel amazing with something that is such a special thing and I love surprising them with designs they may not have thought to try on.
I take pleasure with the responsibility of looking after the showroom and the friendship of the Kel-Leigh Couture family.
Outside of work I love being with my family and socialising with my friends.

Do I need an appointment to visit Kel-Leigh Couture?
You are always welcome to visit Kel-Leigh Couture and an appointment is recommended so one of our Bridal consultants can give you the attention you deserve. Contact us on 4321 0137 to book an appointment or email us at info@kel-leigh.com.au or message kel-leigh couture through facebook.
What should I expect from my appointment?
Out appointments last around one hour where the consultant will ask you on your preferences. You and the consultant will start selecting dresses for you to try on. We are committed to giving you relevant and honest advice
What should I bring to my appointment?
It is helpful to bring someone you trust with you. We advise one or two people as this makes for a more relaxed and informative experience. We also advise that bringing small children with you can make the experience stressful and distracting.
For your initial appointment we advise you to wear a strapless bra. For fittings you will need to bring the shoes you will be wearing on the big day.
What if I am planning on losing weight before my wedding?
We always order your gown the size at the time of ordering. A dress can be more easily reduced in size by our expert alteration
Please contact us if you have any questions